Description
ABOUT THE DELIGHT 4 SPORT
Fly high, fly far. This is the goal that motivates many pilots and pushes them to surpass themselves in the air. Cross-country flying is above all an endurance discipline, where mental and physical conditions play a key role in performance. One thing is sure: the equipment should not be a source of additional mental strain.
The DELIGHT 4 SPORT is the fourth generation of pod harnesses designed and developed specifically for distance flight with comfort.
Throughout its design, the objective was to make the use of the harness simple so that you only have to concentrate on the essential: flight. To do this, our designers kept in mind three fundamental notions: comfort, performance and safety.
The structure of its seat, more rigid than that of the DELIGHT3, allows to chain the hours of flight without ever losing comfort. The use board avoids lateral compression points while filtering the air mass to communicate only the information necessary for a precise piloting. In turbulent conditions, the stable and reassuring behaviourof the DELIGHT 4 SPORT allows you to stay focused on your piloting  with confidence without unnecessary turbulence.
The safety is at the heart of the development of the DELIGHT 4 SPORT. Equipped with a new, lighter BUMPAIR than the DELIGHT 3, the harness provides high performance protection for maximum safety. Divided into two parts, a zipper allows the protection to be unfolded flat for a simple and compact storage in the rucksak. In this same idea of maximum passive safety, an anti-fall system approved to the new standards (450 kg) is used for a double belay of the belly strap.
The comfort and simplicity are necessary in every action. The DELIGHT 4 SPORT is therefore a highly accessorized harness which provides you with everything you need during the flight: large capacity rigid cockpit, USB cable passage, pockets , various passages for the flask pipes, ballast drain or penilex… In the same way, the adjustments of the harness remain accessible in the airwhich allows you to to adapt your position at any time on flight.
The fairing of the DELIGHT 4 SPORT improves the line of the harness. Its more aerodynamic airfoil increases the performance in cross country and stabilizes the whole on the yaw axis. This sport version of the DELIGHT 4 is aimed at cross country pilots looking for a high performance harness without compromising on comfort and safety.
The 4th generation of the DELIGHT comes in two versions. If you are looking for a first pod harness or a harness allowing you to progress towards performance, discover the "standard" version of the DELIGHT 4 here.
Cross and competition
Position: from sitting to semi-recumbent
Stable behavior that filters out air mass turbulence
Adjustable belly strap to adapt the level of stability
New generation foldable BUMPAIR with better performance
Stronger structure approved to 130 kg
Anti-fall approved to 450kg
Back comfort plate
Assembly of the rescue parachute without tools
Improved fixation of the handle
More ergonomic parachute pocket
Safety lanyard with GRIVEL carabiner to secure in case of tree landing
More rigid seat structure which improves comfort on flight, especially on accelerated flight
Settings accessible in flight and lockable
Foldable protection for a compact and comfortable storage in the rucksak
Better foot support
Passage for the pipe of the flask
Passage for the ballast drain hose
Passage for the penilex pipe
Large back pocket with specific location for the flask
Large rigid cockpit to accommodate any instrument
Large capacity cockpit pocket
2 zipped side pockets
SETTINGS
All settings are available in flight:
Adjustment of the length of the speedbag: heels and toes
Adjustment of the lumbar vertebrae
Adjustment of the backrest inclination
Adjustment of the ventral
Adjustment shoulder straps
EN Regulation
LTF Standards
PPE standards
Carbon feetboard
Cockpit extension
Footpad
SPARE PARTS
For a better durability of the product, the eco-design of the DELIGHT 4 SPORT allows the replacement of the following parts:
Anti-puncture Mylar
Scoop Mylar
Carbon seatplate
Dedicated rescue pod and handle
Speed bar 3 bars
Polypro feetplate
BUMPAIR DELIGHT 4
Bottom of the speedbag
Technical Data
| SIZE OF THE HARNESS | S | M | L | XL |
| --- | --- | --- | --- | --- |
| PILOT HEIGHT (CM) | 155-170 | 165-180 | 180-190 | >190 |
| WEIGHT OF THE PILOT (MINI – MAXI) (KG) | 50-75 | 70-85 | 80-100 | 95-120 |
| FLYING WEIGHT RANGE MAX EXCLUDING GLIDER AND CARABINERS | 130 dNa (approx. 130 kg) | 130 dNa (approx. 130 kg) | 130 dNa (approx. 130 kg) | 130 dNa (approx. 130 kg) |
| WEIGHT OF THE HARNESS (KG) | 3.62 | 3.77 | 4.09 | 4.17 |
| PRACTICE | paraglider only | paraglider only | paraglider only | paraglider only |
| A – BACK HEIGHT (CM) | 58 | 65 | 72 | 73 |
| B – HEIGHT OF THE BACKREST TILT ADJUSTMENT  (CM) | 35 | 36.5 | 41 | 43 |
| C – LENGTH OF SEAT (CM) | 45 | 45 | 45 | 49 |
| D – WIDTH OF SEAT (CM) | 33 | 33 | 35 | 37 |
| E – HEIGHT OF ATTACHMENT POINTS (CM) | 45 | 45 | 46 | 47 |
| F – DISTANCE BETWEEN POINTS (CM) | 38-46 | 38-46 | 40-48 | 42-48 |
| G – LENGTH SPEEDBAG (CM) | 77 | 81 | 86 | 98 |
| LITRAGE POCKET OF STORAGE DORSAL (L) | 21 | 22 | 27 | |
| BALLAST BAG CAPACITY (L) | 5 | 5 | 5.5 | |
| DAMPING SYSTEM | BUMPAIR DELIGHT4 | BUMPAIR DELIGHT4 | BUMPAIR DELIGHT4 | BUMPAIR DELIGHT4 |
| HOMOLOGATION | Yes: EN 1651+A1, LTF and CE PPE | Yes: EN 1651+A1, LTF and CE PPE | Yes: EN 1651+A1, LTF and CE PPE | Yes: EN 1651+A1, LTF and CE PPE |
| TANDEM (PILOT OR PASSENGER) | No | No | No | No |
| WINCHING | Yes | Yes | Yes | Yes |
| COMPATIBILITY WITH QUICK-OUT CARABINERS | No | No | No | No |
| PARACHUTE BAG VOLUME | 2.9 to 5.5 Liters | 2.9 to 5.5 Liters | 2.9 to 5.5 Liters | 2.9 to 5.5 Liters |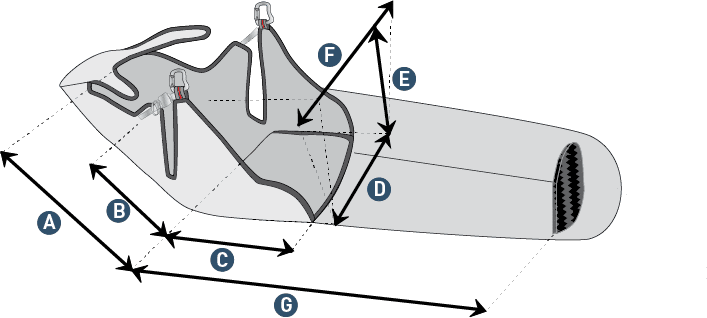 COMPARTMENTS:
A – Back pocket storage
B – Back comfort plate
C – Rescue parachute pocket
D – BUMPAIR
E – Ballast pocket